FIL Photo Extravaganza · Page 2

What it's like on the floor, and how the FIL can come to you

A well-stocked Guadalajara newsstand
touts its Harry Potter offerigs alongside
just a few magazines
SOL invades the
Feria Internacional del Libro XVI ▬ The 2002 Guadalajara Book Fair
The main problem with the Guadalajara Book Fair is that we don't all get to go every year. No need to despair, though; the magic of that Internet thing can bring the FIL to you, sort of. The University of Guadalajara's radio station, XHUG, covers the fair like a snug dustjacket. Bring a portable radio if you do go, and tune it to 104.3 FM. A news station, XEAAA at 880 on the AM dial, also runs some FIL features. If you're stuck at home, you can get live streaming audio from both XEAAA and XHUG. It's the university station, though, that really embraces the FIL, conducts interviews inside the pavilion, and offers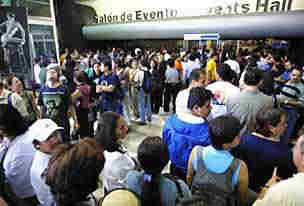 An overflow crowd lines up for a
discussion with Silvio Rodríguez

audio archives of its splendid "Como en Feria" coverage. There you'll find news, book reviews, and interviews with the likes of Jorge Ramos, Arturo Pérez-Reverte, Silvio Rodríguez, Guadalupe Loaeza, Rius, Paco Ignacio Taibo II, and many other writers, musicians, and publishers.

But not even Internet radio can give you that giddy feeling of rubbing shoulders with tens of thousands of booklovers. A half-million attendees over nine days gives the FIL a crowded atmosphere. Agoraphobic librarians will be relieved to know that the hoi polloi is barred till evening during three midweek "professional days" set aside for hard-core book buyers and dealers. Professionals—and all you have to do to be one of those, Flaco discovered, is shell out forty bucks for a necktag that comes with, you guessed it, a commemorative book sack stuffed with useful propaganda—are treated to a number of privileges, like access to a lounge area crawling with librarians and publishing industry types. There the wheels of commerce are lubricated with oceans of free coffee and sometimes, or so we've been told, shots of a native Jaliscan beverage of some renown brewed from the versatile agave plant.

The wildly beloved Silvio Rodriguez—for many around the world, the musical voice of the Cuban revolution—broke three years of performance silence before a huge audience in the esplanade of the FIL. He also participated in the series of "Mil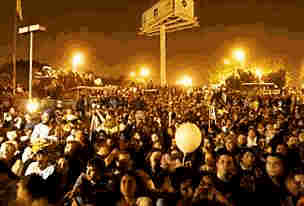 The night Silvio was to sing three songs in
front of the FIL building, some 10,000
fans came. He sang eight.

Jóvenes Con..." conferences, and there was some bitterness outside the door of the large auditorium when the doors finally had to be shut. Among the others who took part in this series of discussions directed at young audiences include Cintio Vitier, this year's Juan Rulfo Award honoree (whose bronze bust now occupies the foyer of the University of Guadalajara's art museum) and novelist Arturo Pérez-Reverte, whose latest bestseller La reina del sur, dealing as it does with a Mexican drug trafficker, garnered the Spaniard plenty of attention at this year's fair.

In the book industry, the word "bestseller" has, in any language, a cash register-style ring to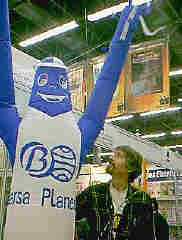 Two skinny bookmen, both full of hot air

it that sets heads to spinning. Some people will embarrass themselves to score a bestseller; at the FIL, it was more common to see people who'd been paid by others to embarrass themselves in the name of marketing. In addition to the inevitable tall gorgeous models clad in tight dresses and beauty-pageant sashes posted at the entrances to some of the vendors' stands, there were costumed mimes. Dressed as literary characters in period clothing, they sat silently in a booth or behind a glass window and paged through titles their employer was pushing, careful not to hide the covers with a misplaced hand.

A group of people, drawn together by a cultural event and catalyzed by ideas, is a thriving, thinking organism in which happy synapses fire away. People can meet and learn from each other; they can share thoughts and launch relationships. Capitalists, though, take a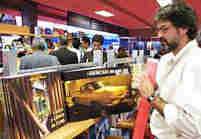 Books at the Cuban pavilion. The one
seen here celebrates the old Detroit iron
that cruises the island—which just opened
a museum of classic US automibiles

less rosy view; they tend to see large gatherings as marketing opportunities, and who can blame them? This tension between the magic of reading on one hand, and the business of books on the other, is everywhere evident at the FIL, where books are alternately respected and revered, and treated as commodities. But does it really matter whether you love books because they broaden your mind and inspire you to noble deeds or instead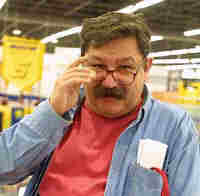 The incomparable Paco Ignacio Taibo II

because they help you make your car payments? A love of books is a love of books, after all, and this love is manifested in myriad ways at the FIL. What a thrill to see Paco Ignacio Taibo II, who moments earlier had been stationed at a publisher's table wearily signing his own new novel, rub his eyes with both fists and then seize the stage at a book presentation to blast into a rabidly enthusiastic description of José Manuel Fajardo´s La epopeya de los locos, a historical novel PIT II swears he "devoured" in the two days he spent waiting around in subway stations and airports as he rushed from Ecuador to the FIL. Or to experience the trenchant wit of Cuban critic and author Ambrosio Fornet, "pinch hitting" as a panelist in a discussion of Arturo Arango's El libro de la realidad in the charming Café Literario, the artfully gritty performance and discussion space in a corner of the Cuban pavilion. After the discussion, Arango and Fornet complied with tradition by signing a table in the café; Fornet signed ours, and it wasn't a half hour later that I read his words on a banner at one of the book stands: "...God made the US so Cubans would know the limits of their freedom, and He made Cuba so the Yankees would know the limits of their power."

Arango was one of a number of authors who took their acts to local high schools as part of a program called Ecos de la FIL. And a writing contest for young people drew hundreds of entries. There a universe of activity on the floor of the book fair,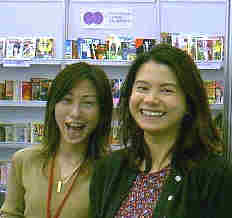 within the Expo center, but as you'll see on the pages that follow, that's only the beginning. Before we leave the bustling FIL floor, though, consider the discovery made in a quiet, hidden corner by one Hajime Yukawa (far right), a Los Angeles bookstore clerk who was born in Guadalajara's sister city of Kyoto, Japan. Who would have thought that one of the stands at the FIL would feature the local Japan Foundation, or that Ms. Yukawa (who is, for better or for worse, closely related to Flaco by marriage) would discover there some bilingual Spanish-Japanese dictionaries with features that some customers of the store where she works had asked about, but been unable to find?
This year's FIL was a great place to learn about Cuban culture and Cuban literature. Every year, though, the FIL is a magnificent place to learn something about the world.