FIL Photo Extravaganza · Page 4

The FIL pays tribute to two cartoonists, and one librarian

SOL invades the
Feria Internacional del Libro XVI ▬ The 2002 Guadalajara Book Fair
Nov 30 - Dec 8, 2002

Máscaras mexicanas
at a Guadalajara
sidewalk stand
Guadalajara's book fair is held at the Expo center, a vast arena outside of town. The site is surrounded by tall luxury hotels and is walking distance from an obscenely modern shopping center. The city's magical heart lies miles, and centuries, away.
But the FIL has grown far too big to be contained by the Expo center. Related events take place day and night all over the metropolitan area. This year saw nightly free concerts in downtown Guadalajara, art exhibits in neighboring cities, author appearances at local high schools, and an array of presentations, forums, and seminars hosted by the University of Guadalajara both on and off campus.
We attended a Cuban film series hosted by the university's cinema, where the lobby walls were hung with an exhibit of dozens of striking film posters brought from Cuba. The series screened three early films directed by Tomás Gutiérrez Alea, who made Fresa and chocolate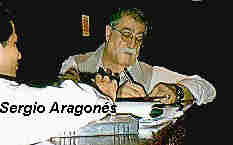 (Strawberry and Chocolate, the Oscar-nominated first Cuban flick distributed commercially in the US ) and Lucía by Humberto Solás.
In the same auditorium was a three-day symposium that examined comics and cartoonists, saluting, in the words of Carl Sandburg, the keen harpoonery of their cartoonery—the Primer Encuentro Internacional de Caricatura e Historieta. Two of the giants of the art—monstruos sagrados, as one of the organizers called them—were there: Eduardo del Río, better known as Rius, and moustachioed MADman Sergio Aragonés, who lives in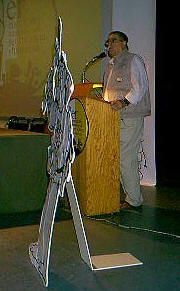 California but carries a Mexican passport. They both received well-deserved homages for their decades of extraordinary work; they both gave generously long, sublimely witty talks, one of them punctuated by a stand-up comedy routine using an overhead projector and a drawing pen; and they both signed dozens of autographs for adoring young fans.
The stage belonged to Sergio on the opening day of the conference. You probably grew (pun intended) up laughing at his "Drawn-Out Dramas" in the margins of MAD Magazine; he has 40 years of those behind him, and 20 years of drawing his popular Groo, the Wanderer comic book. Fitting, perhaps, that the Spanish-born author would make Groo so pathetically quixotic, and his dog Rufferto so panzaic. Groo stood beside Sergio as he spoke, on a stage delightfully adorned with characters created by the two honorees and other cartoon legends.
In a 90-minute rap well received by the mostly college-age crowd, Sergio injected wry observations, quick hilarious sketches projected onscreen and delivered with the timing and rapidity of a good nightclub comedian, and his replies to a storm of questions from fans he held in the palm of his draftsman's hand. You might enjoy a short video of him a few days later receiving his award—a statuette based on José Guadalupe Posada's "La Catrina"—at the FIL.
Sergio was introduced as the best-known Mexican cartoonist in the world; the next day of the Encuentro brought an homage to the best-known Mexican cartoonist in Mexico: Rius. His 45 years of iconoclastic, didactic and at the same time funny work has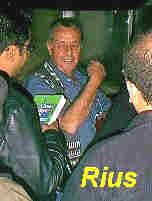 spilled over into a number of magazines and newspapers, and filled more than 100 books (several translated into English). His heady style ("mine were the first comics in the world that came with a bibliography...") has influenced generations of cartoonists worldwide. If you don't know his stuff, do yourself a favor: Rius was the Críticas coverboy last March, and his interview in that issue is a fine place to learn what makes this genius tick.
Almost 70, yet with the antic spirit and the uncompromised defiance of an angry young man, Rius also clicked instantly with the college students; it was an oblique reference to his age that drew the

first roar of laughter: "I hope to get to sixty-nine soon," he noted. "I'm talking about years. I have no idea what you might be thinking I meant."
Subcomandante Marcos, the revolutionary Sandinistas of Nicaragua, and your pal Flaco are among many who own up to having learned something about politics, history, and culture from the comics of Rius. In his talk at the Encuentro he recalled his meeting with Che Guevara, who was acquainted with the young cartoonist's work, and planning with the charismatic revolutionary a collaboration that never quite came off. With no kind words for the Fox administration or his conservative PAN party, Rius spoke archly of the Mexican government's recent move to end tax exemptions for authors—a topic that received surprisingly little attention at this year's FIL. (And as of January 1, 2003, Mexican magazines will be hit with a 15% sales tax; the Treasury minister has said he wants to do the same to books. Odd moves by an avowedly pro-reading administration.)
Rius marveled that his frequent swipes at the Mexican government and the Catholic church have not subjected his work to censorship. But make no mistake: you're much more likely to find his books in US public libraries than in Mexican ones. As for the less controversial Sergio Aragonés, we'd be remiss if we failed to mention his classic "MAD Look at the Library" in the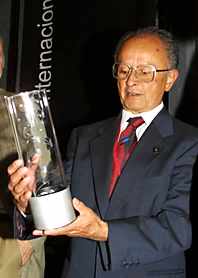 March, 2001 issue of that fine publication; he's been known to do cartooning programs at Ojai Public. All of which brings us to another kind of first at the 2002 FIL. Long overdue, the book fair paid its first formal homage to a librarian: Roberto Gordillo Gordillo, shown at left receiving his award. Gordillo is a Chiapas native whose love for the profession brought him to Michigan, where he studied librarianship and worked as a librarian. He returned to Mexico as an archivist, library educator, and, perhaps most significantly, the architect in 1983 of the nation's current public library system.
In his remarks at the FIL, Gordillo urged the University of Guadalajara to establish a library school. As he told a local newspaper, when asked about the state of Mexico's 7,000-some public libraries, "A big problem here is that libraries open without anyone to manage them—just as if hospitals were to open without any doctors!" Gordillo is unimpressed by the Fox administration's declared intention to make Mexico a nation of readers. "They're not in tune with the reality of what needs to be done," he says, and it's unlikely he'd get any argument from Rius.